iTeam and Mingle Fund
Want to meet friends from different nations? Want to host events with Exchange students? Want to expand your international knowledge?
iTeam
Join the iTeam, which is a group of students dedicating to facilitate cultural exchange between local and non-local students. They have organized festive events in Lunar Chinese New Year, and also held Turkish Art event and World War II forum to let local students have a deeper understanding of culture and history in other regions.
Interested in being part of the iTeam? Send your SID, name, and contacts to Kiki (kikiwkchan@cuhk.edu.hk). The earlier you contact us, the earlier you can get in touch with the like-minded and your counterparts from different parts of the world!  
Mingle Fund
Your daily exciting activities with foreign College students can be supported by the College's Mingle Fund too!
Mingle Fund aims at encouraging interaction among local, international and incoming exchange students of Wu Yee Sun College. The Fund mainly supports daily and social activities with the participation of Both local students And international / incoming exchange students (i.e. there should be at least one local student AND at least one international / incoming exchange student.)
Successful applicants will receive subsidy on reimbursement basis. For each successful application, each participant may receive, at most, HK$100 subsidy for the activity.
Guideline Application form (English only)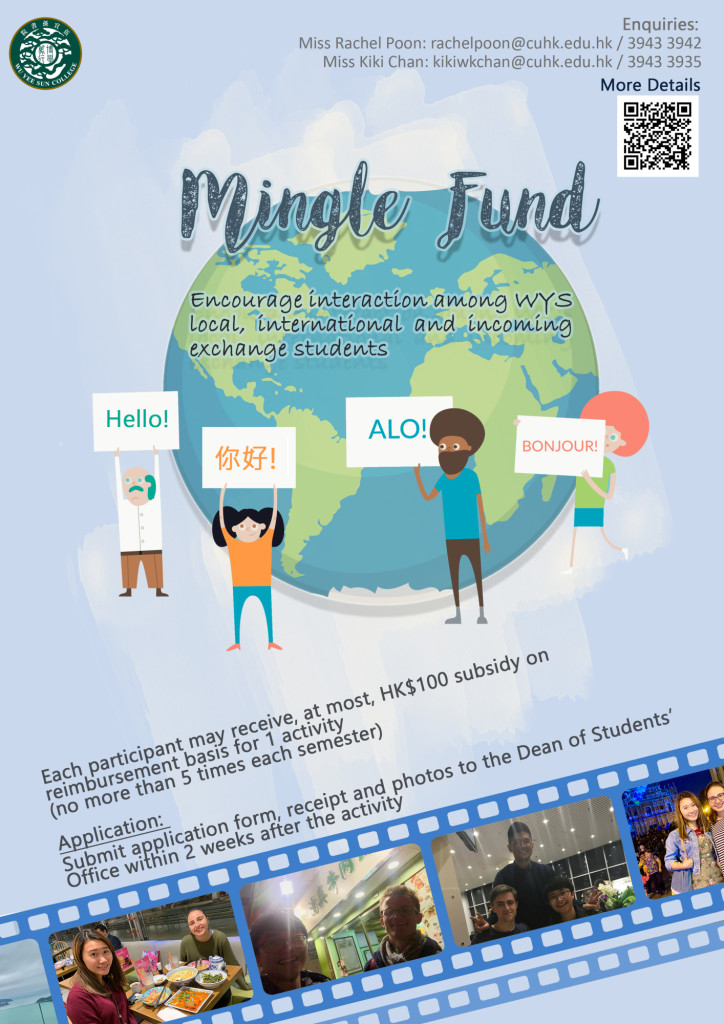 Internationalization Activity Fund
The Internationalization Activity Fund aims to support students to organize college- or hostel-level extracurricular activities which promote internationalization and inter-cultural exchange opportunities among members of the WYS community.
Eligibility
All registered WYS student associations will be eligible for applying for financial support from the Fund.
Local and non-local student bodies/students are also encouraged to apply for the funding to organize activities for promoting campus integration and cohesion.
At least 70% participants should be local undergraduate students.
Applications are accepted all year round. Please complete the application form with proposal and budget plan, and submit them to Dean of Students' Office, UG09, Wu Yee Sun College.
Successful applicants will receive funding on reimbursement basis. Students should submit evaluation report and original receipts to Dean of Students' Office within one month after the project completion date.
Application Guidelines (English only)
Application Form (English only)
Evaluation Report Template (English only)