Global Learning Award Scheme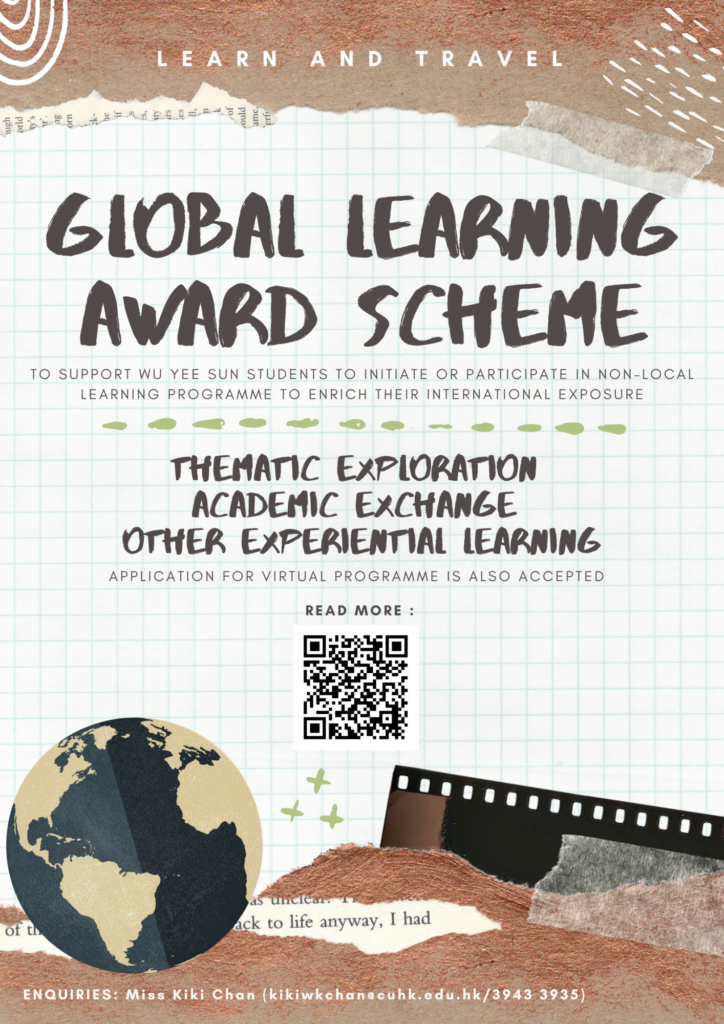 The Global Learning Award Scheme (GLAS) aims to encourage students to initiate or participate in non-local academic or experiential learning programmes with the main purpose of LEARNING. Applicants will be awarded the "Global Learning Award" and receive the award amount after completing all post-trip requirements on time.
Some examples are students' self-initiating trips or joining overseas conferences, competitions, field trips, courses, internship/major-related placement, research, voluntary service, cultural tour. Programmes organized and subsidized by the College and Term-long Exchange Programmes are EXCLUDED.
In view of the pandemic, students could apply GLAS for virtual programmes, while there are some restrictions. Students who solely participate in organized programme without a personal contribution (e.g. attending a conference, online courses, etc.) are not eligible for applying GLAS, instead students' contributions in the programme are required.
Below are some examples eligible for applying GLAS:
Presenting a paper in a conference
Giving a talk in a symposium
Participating in a joint project with students from other overseas universities
Participating in a research project
All Wu Yee Sun College students (except Exchange students) are eligible for application. For final year students, the programme joined or planned must be finished by their corresponding graduation date. The College Student Exchange Committee will determine if the students can be awarded, and the award amount (if any). For more details, please visit the webpage of GLAS.