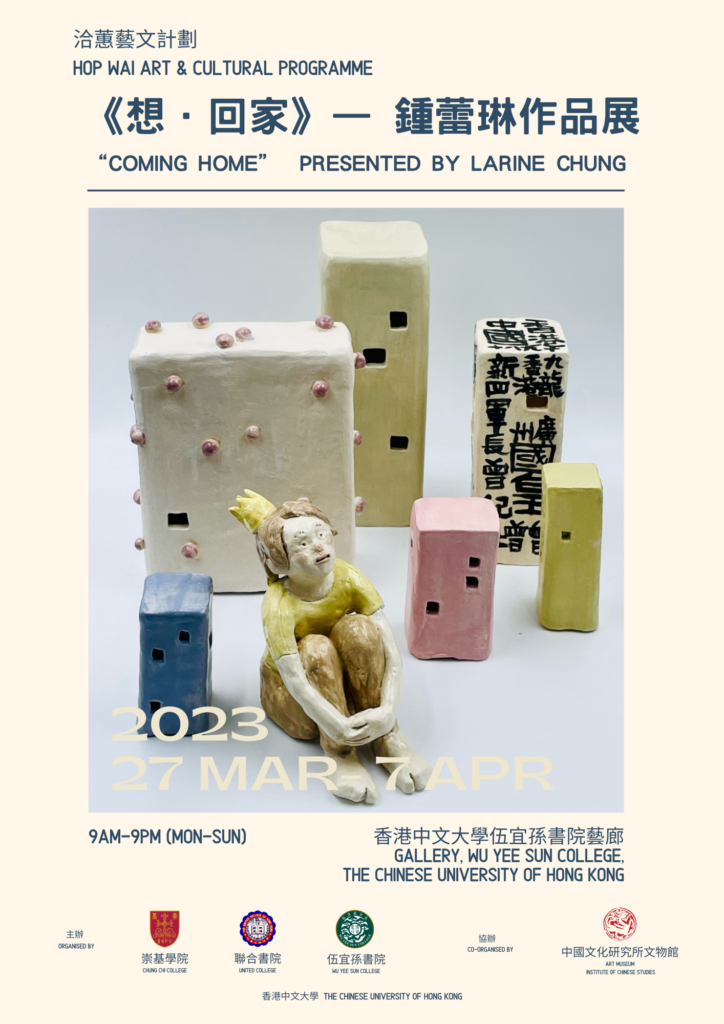 The art exhibition"Coming Home" presented by Larine Chung is jointly organized by Chung Chi College, United College and Wu Yee Sun College, and co-organized by Institute of Chinese Studies Art Museum. It is part of the Hop Wai Art & Cultural Programme 2022-23 featuring a list of art pieces created by Ms. Larine Chung in the past few years.
Chung received training in the Gage Academy of Art in Seattle under renowned painter and writer Juliette Aristides after receiving the Bachelor of Arts in Fine Arts from The Chinese University of Hong Kong. She continues to explore the language of painting with Spanish painters Antonio Lopez Garcia and Golucho every year. She is now the Director of Classical Atelier in Gage Academy of Art and the Artistic Director of Eastside Artists Collaborative.
This exhibition presents Chung's contemporary realistic painting showing the anxiety brought by the unknowns. She encouraged herself by creating colourful pieces. Chung also brings the ceramics created with the yearning for returning home during the sleepless nights.
Venue | Gallery, Wu Yee Sun College, CUHK
Exhibition Period | 27.3 – 7.4.2023
Opening Hours | Mon to Sun  9am – 9pm
Enquiries : Karen Yiu (karenyiu@cuhk.edu.hk / 3943 3936)